Korang,,

Saya telah jatuh hati sket.. (ye sedikit sahaja) pada lelaki kacak bermain Iphone dalam lrt pagi tadi.

Adakah saya merindui Mr TenTen sangat lalu mengaplikasikan mukanya ke dalam muka lelaki kacak bermain Iphone ituu? =p wakakaka

ok saya nak jerit I MISS YOU lagi sekali tapi nanti ade orang cakap jeritan saya sampai ke Kuang dan Taman Dagang..hahah.Kalo Taman Dagang pon takpe jugak..kot2 Mak Aril AF7 dengar suara merdu i, boleh la i bermenantukan beliauuuuu..hahahahha

(Mr TenTen jangan marah haaaaaa..ini ngarutan minda sahaja..anda tetap chomel di hatikuuuuuuuu.................weeeee ;))

ok cerita pasal topik jejaka kacak dan jejaka jambu2 ini,sebenarnye, im in love with a vampire!!

hot lah weyh, it makes my heart melts like chocolate cairrrrr yang lupa untuk disimpan ke dalam fridgeee..hahah

To those who subsribes Max (Astro Channel 412) ,

TRUE BLOOD is definitely a must-watch!!

(even korang dah ngantuk2 n badan cam lembik2 pon mesti korang nak tengok gak..percayalahhhhhhhhhhhhhhhhhhhh)


Baru tengok poster air luir dah leleh2 kan??kan??
The Couple : Anna Paquin as Sookie Stackhouse & Stephen Moyer as Bill Compton(The Vampire)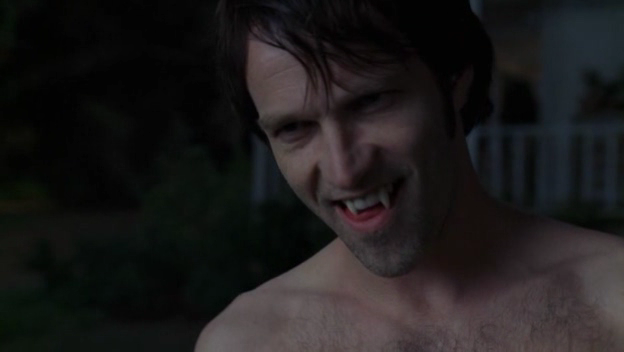 oh he's sooooo hotttttttt..
and,Ryan Kwanten as Jason Stackhouse
(another good reason why you should watch the show..
oh so yummehhhhh...slurrp...hahahaha)

Akhir kata, enjoy watching!!

I should keyboard off now as i dok search gambar mereka aje.

Tak khusyuk ok nak buat kerjaaaa (which is soo not me ok...hihihi)

tataaa!